1. Always maintain proper track tension, by adjusting the track tension spring
2. Always use the narrowest pad possible. The wider the track pad, the lower the ground pressure is, but creates more stress on undercarriage components.
3. Always watch for any loose pad bolts and if any are found repair immediately or damages will occur to the chain.
4. It is always important not to have track tension to tight this puts extra strain on pins, bushings and sprockets.
5. Keep your tracks clean, soil and other material conditions can quickly turn properly adjusted tracks to be to tight causing rollers to stop turning causing more wear on undercarriage components.
6. If you see unusual wear or shiny spots that normally are not this could be an indication of misalignment and there could be a problem somewhere else. Left unchecked could cause more damage and more money.
7. When operating machine always minimize traveling in reverse, the tracks are designed to have less wear when traveling in the forward position.
8. You should always minimize the rate of speed when traveling, higher rates of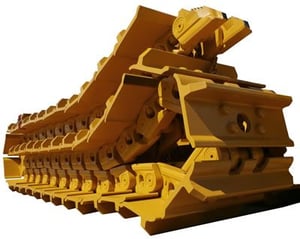 speed can also accelerate wear on undercarriage components.
9. When pushing or loading material try to avoid spinning of the tracks, unnecessary spinning of tracks accelerates wear on pads and other undercarriage parts.
10. In a conventional track system the bushings always wear out on one side, the top side supporting the chain rails, therefore you can turn each bushing when they are worn 180 degrees to extend their life. Whereas the Komatsu PLUS Undercarriage system automatically rotates the bushings throughout the life cycle
11. Komatsu PLUS (Parallel Link Undercarriage System) undercarriage was developed and can provide twice the wear life expectancy. To read more about this technology and how Komatsu designed it please download this informative R&D paper