Komatsu Intelligent Machine Control 2.0 is here !
Intelligent Machine Control
No longer does an operator need to look to a grade checker/laborer or ground stakes for guidance on where to move the earth. Now, 3D design data is fully integrated into the machine and the operator is guided to work at high efficiency. Intelligent machines control the blade and bucket with sophisticated automation, aligning material movement to design decisions. Talk to our experts about how our new intelligent machine control 2.0 can deliver higher levels of productivity, even if you're low on experienced operators. Now, more than ever, you can have confidence that your machines will produce to your expectations.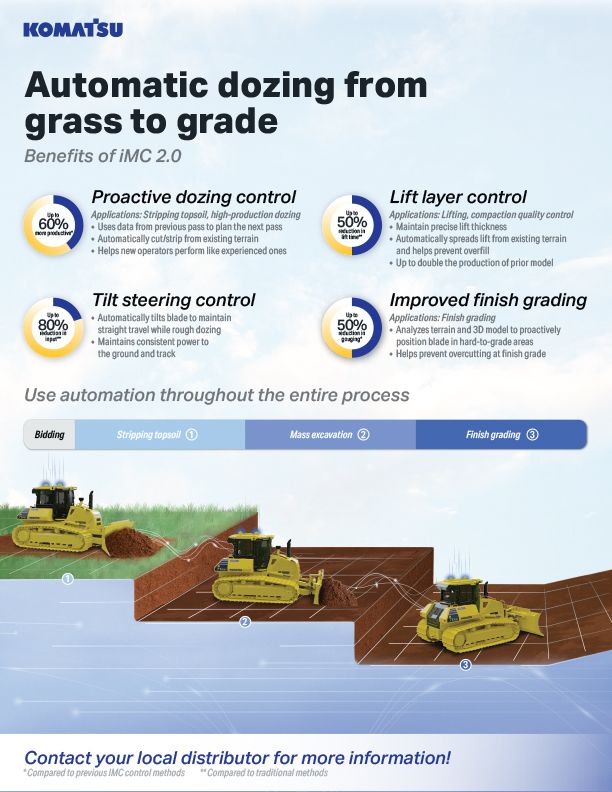 Bucket angle hold control
Empower your operator with bucket angle hold control that automatically holds the bucket angle to the design surface during arm operation, allowing the operator to perform finish grading using only arm input.
Auto tilt bucket control
Auto tilt bucket control helps the operator align the bucket parallel with the slope so that finish grading can be accomplished without having to align the machine with the target surface.
Proactive Dozing Control
Automatically cut/strip from existing terrain like an experienced operator. Machine measures terrain it tracks over and uses it to plan next pass. Now over 60% more productive than previous generation.
Lift Layer Control
Automatically spreads fill from existing terrain with one press of the button. Machine measures terrain it tracks over and uses it to plan next pass. Double your production and achieve consistent layers for compaction quality.
Tilt Steering Control
Automatically tilts blade to maintain straight travel during rough dozing. Reduce operator steering input by up to 80% .
Quick Surface Creation
Create a temporary design surface with one press of the button. Combined with our other functions, begin stripping or spreading using autos while waiting for your finish grade model.
IMC DOZERS
3D GPS automatic dozers

for applications from finish grading to mass excavation
No Cables - No Climbing - No Connections
Innovative - Integrated - Intelligent
Fully supported by Komatsu's service and support network
| | | |
| --- | --- | --- |
| | Weight (lbs)* | HP |
| D39i-24 | 21,804 | 105 |
| D51i-24 | 29,057 | 131 |
| D61i-24 | 41,381 | 169 |
| D65i-18 | 50,420 | 217 |
| D85i-18 | 65,080 | 267 |
| D155i-8 | 90,610 | 354 |
*Approximate and varies by configuration. Check full specifications at www.komatsuamerica.com
KOMATSU FINANCING
Whether you're purchasing, leasing, or looking for financing for parts and service, our experienced professionals at Komatsu Financial work with your distributor to drive your success through a variety of financing programs. Financing options are available for new and used equipment, service work and parts, customized leasing and equipment credit lines with flexible terms and payment plans.