What is Komatsu intelligent Machine Control?
Often referred to as grade control, these machines know exactly where they are in relation to the physical job-site, the job sites 3D CAD plan & the actual working equipment (bucket/blade). When the job-site is mapped out by a drone or by manual survey it is then overlaid into the 3D CAD engineering/development drawing. The machine accurately reads the differences in real-time (90 times per second), assisting the operator towards reaching the desired grade as quickly and efficiently as possible. Eliminating errors, over runs and re-work to complete jobs 30% faster than conventional manually operated machines. Komatsu has pioneered advancements in this technology by partnering with Topcon to offer "intelligent" machines that come factory equipped with GPS auto grading systems. Further Komatsu is taking the technology to the next level with the "SMART CONSTRUCTION" initiative. Whereby the job site surveying, 3D map building, and complete project management can be provided as a comprehensive service. A one-stop-shop solution in the grade control game is guaranteed to improve your bottom line from start to finish grade.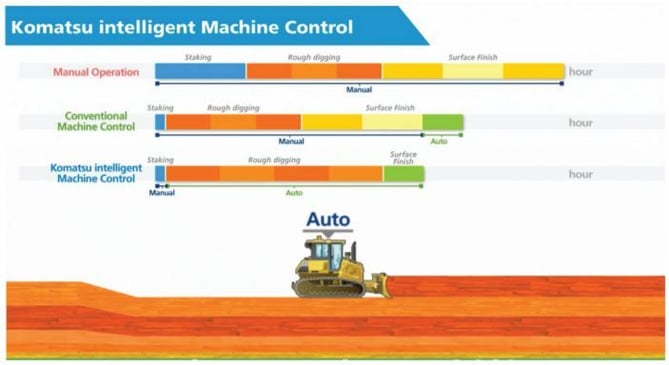 Why ESS?
At first glance, grade control technology can be intimidating,. From selecting the correct radio's, to knowing the differences between 2D and 3D systems, or understanding the crucial role rovers have in the initial job site set up. ESS has a dedicated technical support team; our experts will get you up and running from day one. ESS will train your crew from the beginning and provide complimentary technical support going forward.
Why Komatsu?
HAVE CONFIDENCE
3,500+ machines working in North America since 2013
FIND MORE OPTIONS

Most extensive lineup of intelligent dozers and excavators
MAKE EVERY PASS COUNT

Automated dozing from first to last pass and rough to finish grade
DIG STRAIGHT TO GRADE

Fast and accurate automated digging without over-excavation
Komatsu intelligent Machine Control Vs Cat Grade Control
CAT GRADE CONTROL

KOMATSU INTELLIGENT MACHINE CONTROL

Cat GC: Offers 2D and 3D machines

2D option requires the operator to bench in every time the machines moves.

Komatsu IMC: Only offers 3D machines

Cat GC has internal sensor technology, which could be challenging for serviceability.

Komatsu IMC: Has external sensor technology, making serviceability easy. Same proven technology used on the dozers.

Cat GC: controls the bucket and moves it both up and down at the design surface. Can result in extra movement when not sure if the bucket should raise or lower.

Komatsu IMC: Saves the bucket as a 3D object so we know the location of the whole bucket. Controls the boom to prevent digging past the design surface.

Cat Marketing Promoting E-Fence and Payload

Komatsu machine more accurate and productive
3D GPS automatic dozers for applications from finish grading to mass excavation
No Cables - No Climbing - No Connections
Innovative - Integrated - Intelligent
Fully supported by Komatsu's service and support network
| | | |
| --- | --- | --- |
| Model | Weight (lbs)* | HP |
| D39i-24 | 21,804 | 105 |
| D51i-24 | 29,057 | 131 |
| D61i-24 | 41,381 | 169 |
| D65i-18 | 50,420 | 217 |
| D85i-18 | 65,080 | 267 |
| D155i-8 | 90,610 | 354 |

EXCAVATORS
Semi-automatic excavators for trenching, slope work and high production applications
Protection + precision + performance = the formula for increased production compared to conventional machine guidance
| | | |
| --- | --- | --- |
| Model | Weight (lbs)* | HP |
| PC210LCi-11 | 52,036 | 158 |
| PC360LCi-11 | 79,807 | 257 |
| PC390LCi-11 | 90,441 | 257 |
| PC490LCi -11 | 106,770 | 362 |


MAKE GOOD DECISIONS
Accurate Information leads to better estimates
MAP IT FAST

UAS (drone) maps jobsite in a fraction of the time
TRUST OUR EXPERTS

Komatsu and its partners have the knowledge to deliver useful data
VISUALIZE THE JOBSITE

Greater resolution improves planning
AERIAL TOPOGRAPHY
UAS (drone) technology gathers topographic data efficiently from the air
Collect data at pre-bid, construction and as-built phases
High resolution imagery and topography data for volume calculations and stockpile quantities

GROUND TOPOGRAPHY
Traditional ground survey when UAS (drone) is not applicable or available

GPS HARDWARE
GET NEEDED TOOLS
One source from local Komatsu distributors for base and rover
BUNDLE IT
Purchase or rent the complete package: machine, hardware, software and support services
BASE & ROVER
Latest GPS hardware from our partner provider
A versatile tool to stake out, verify, calculate and measure
Fully supported by your Komatsu distributor

RADIO SOLUTIONS
Equipment to integrate Komatsu intelligent machine control with most brands of GPS receivers

CONNECT WITH US TODAY !